What is it like working at Madison Bridge?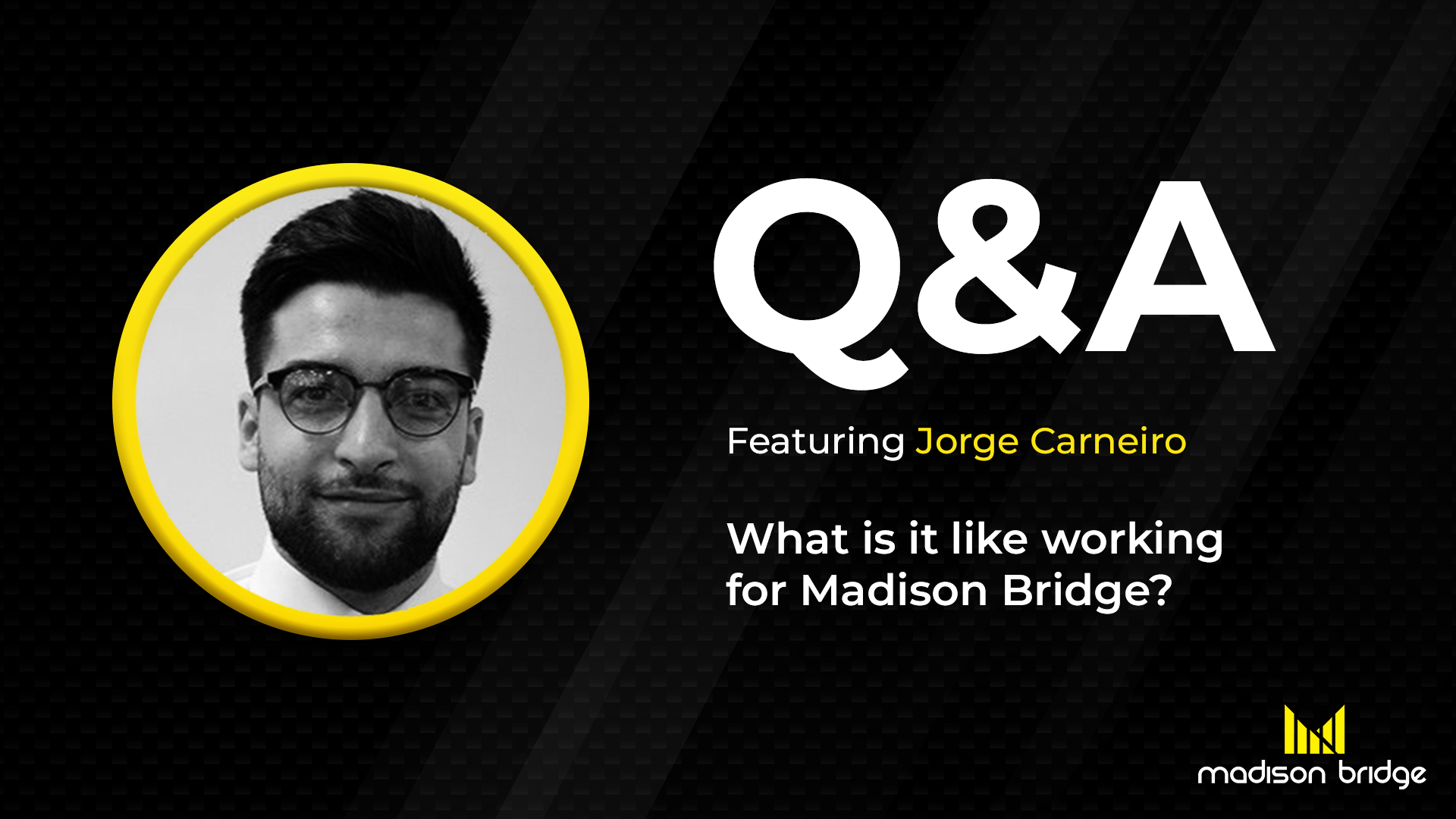 Are you wondering what it is like working at Madison Bridge? Our Senior Recruitment Consultant, Jorge Carneiro, started with us back in December 2021 with a vast amount of Recruitment experience. With an unmatched knowledge of IT recruitment, particularly in Portugal, he has been an invaluable addition to our team.
We have asked him for an update on how things have been working at Madison Bridge, Europe's leading technology recruitment partner, over the past 5 months and how his presence has affected the business in a positive way.
This is what he said…
Why did you join Madison Bridge?
I was in a great place in my previous company, however after having the best year of my career and being a top biller, I joined Madison Bridge due to the challenge, as we are in embryotic stages, being part of the growth of the company is a challenge I was ready to take. Also, it's something I can look back on in a few years from now and take pride in!
What do you feel is Madison Bridge's unique selling point? (tech, culture, progression, management, training, culture, office environment, commission structure, autonomy over your desk etc)
It might sound like a stereotypical answer, but I thoroughly enjoy everything, from the tech stack (I have never seen a recruitment company with so many tools), the culture – which is very friendly, being treated like adults, give you autonomy, plus I can honestly say I have the best mentor I could ask for.
What are you most excited about for the rest of the year ahead?
The learning curve I'll have, and in general, becoming a better person and professional.
What are your career goals for 2022?
Becoming a top biller, and hopefully become a Team Leader (with a lot of hard work ahead in order to reach that).
What is your biggest achievement to date?
I'm very proud of having a top billing year like last year, my journey to be where I'm at and my football journey that lasted 14 years.
Do you feel you understand the company's vision?
Yes, the company's vision is very clear and as it should be in our industry, delivering top tier candidates, and delivering amazing service to our clients.
Are you supported within your role at Madison Bridge?
I can honestly say, every time I needed (still need) support, I always had it.
As you can see, Jorge has already had an excellent first quarter and things are looking very bright for the rest of 2022 thanks to his determination, alongside the excellent support we provide to all of our team. If you like the sound of life at Madison Bridge and want to join the success, then we want to hear from you! Our growing team is always looking for fresh talent and driven people to join the family.